Backup infrastructure is a key piece of any IT organization. Ensuring that you have backups of your virtual machines and filesystems, whether on-premise or in the cloud, is critical for instances of upgrades going awry, physical storage corruption, or testing disaster recovery scenarios. Veeam Backup Enterprise Manager is a management and reporting component that allows users to manage multiple Veeam Backup and Replication installations from a centralized console, helping to optimize performance in remote office or large scale enterprise deployments. Before today, monitoring this component primarily consisted of configuring email alerts within Veeam Backup Enterprise Manager to be sent to the team that manages the enterprise backup environment. The RapDev Veeam integration for Datadog aims to solve this problem.
Veeam Summary Reports
The first piece this integration submits metrics for are the Veeam summary reports. These reports help organizations get a general overview of their Veeam infrastructure by displaying counts of backup servers, number of protected and backed up VMs, and the overall size of full and incremental backups.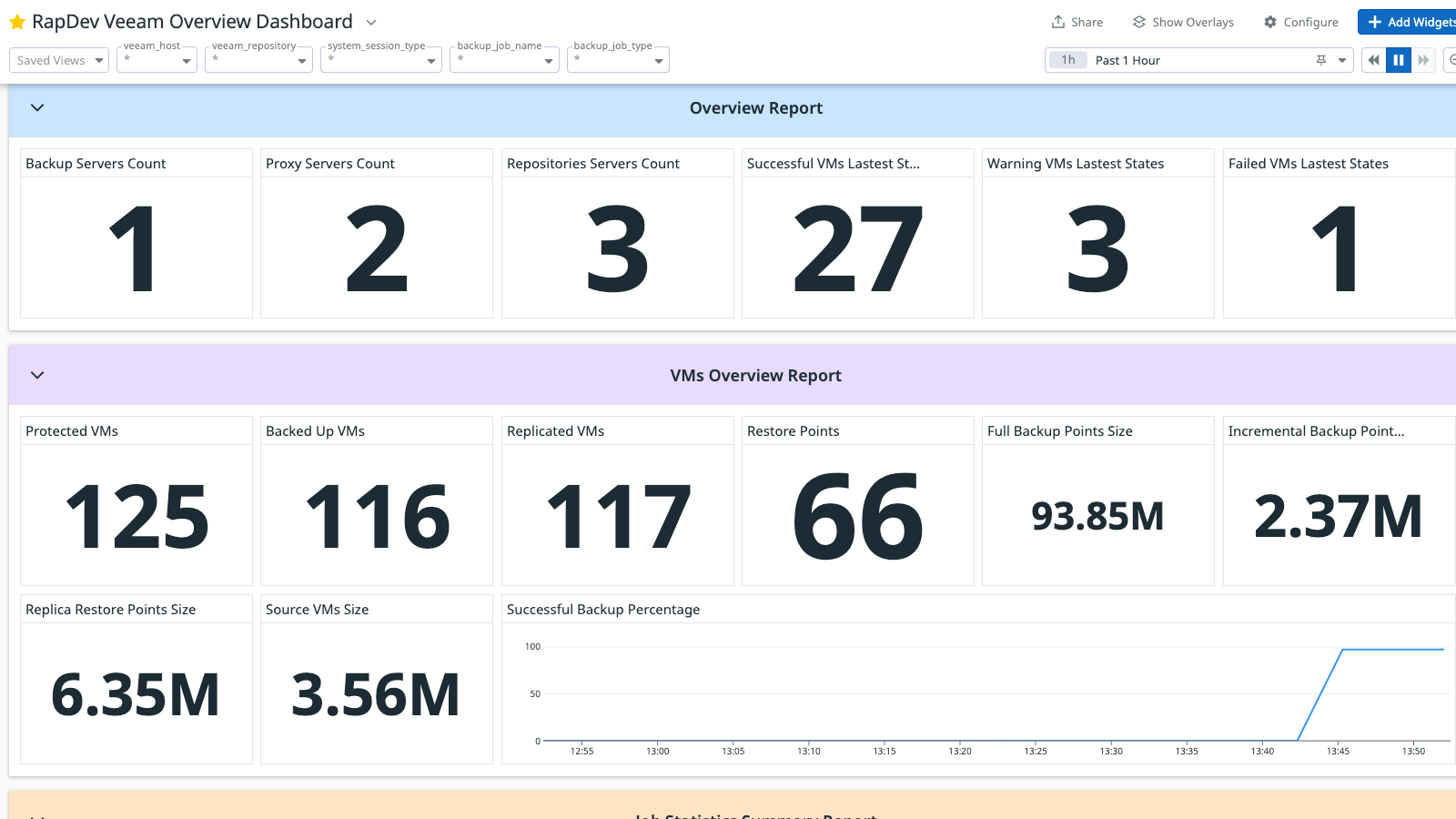 The integration also collects summary metrics for running and scheduled jobs, overall counts for number of successful, warning, and failed jobs, as well as data about the space usage of backup repositories. This can help Veeam administrators track the space utilization of their repositories, so they can know ahead of time if they'll need to request more space before jobs start failing.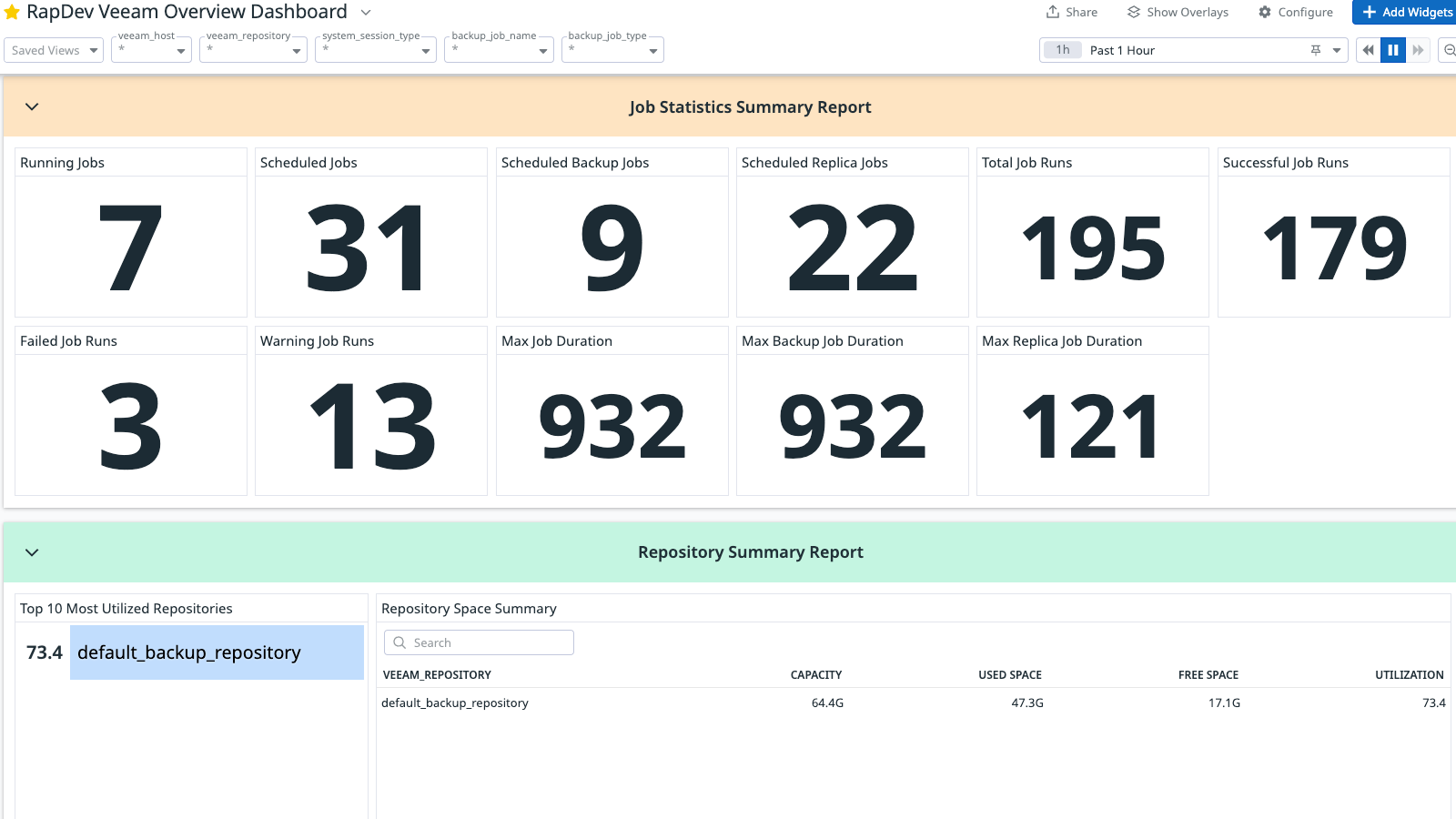 Veeam System Sessions
System sessions in Veeam are jobs that are meant for maintaining the system as a whole. These might be related to catalog replication, database maintenance, or even rebuilding of security scopes. Although some of these jobs are handled automatically by Veeam and don't have to do with actual backups occurring necessarily, they are still an important part of maintaining the backup system and can fail due to any variety of reasons. The RapDev Veeam integration submits metrics for tracking the duration and statuses of these jobs so administrators are never left in the dark when it comes to the maintenance of their Veeam backup infrastructure.

Veeam Backup Job Sessions
Job sessions in Veeam are probably one of the most important parts of the platform. These are the jobs that are performing the actual backups of your infrastructure. By bringing metrics related to the duration and status of backup jobs, monitoring whether a job completed successfully is made easy.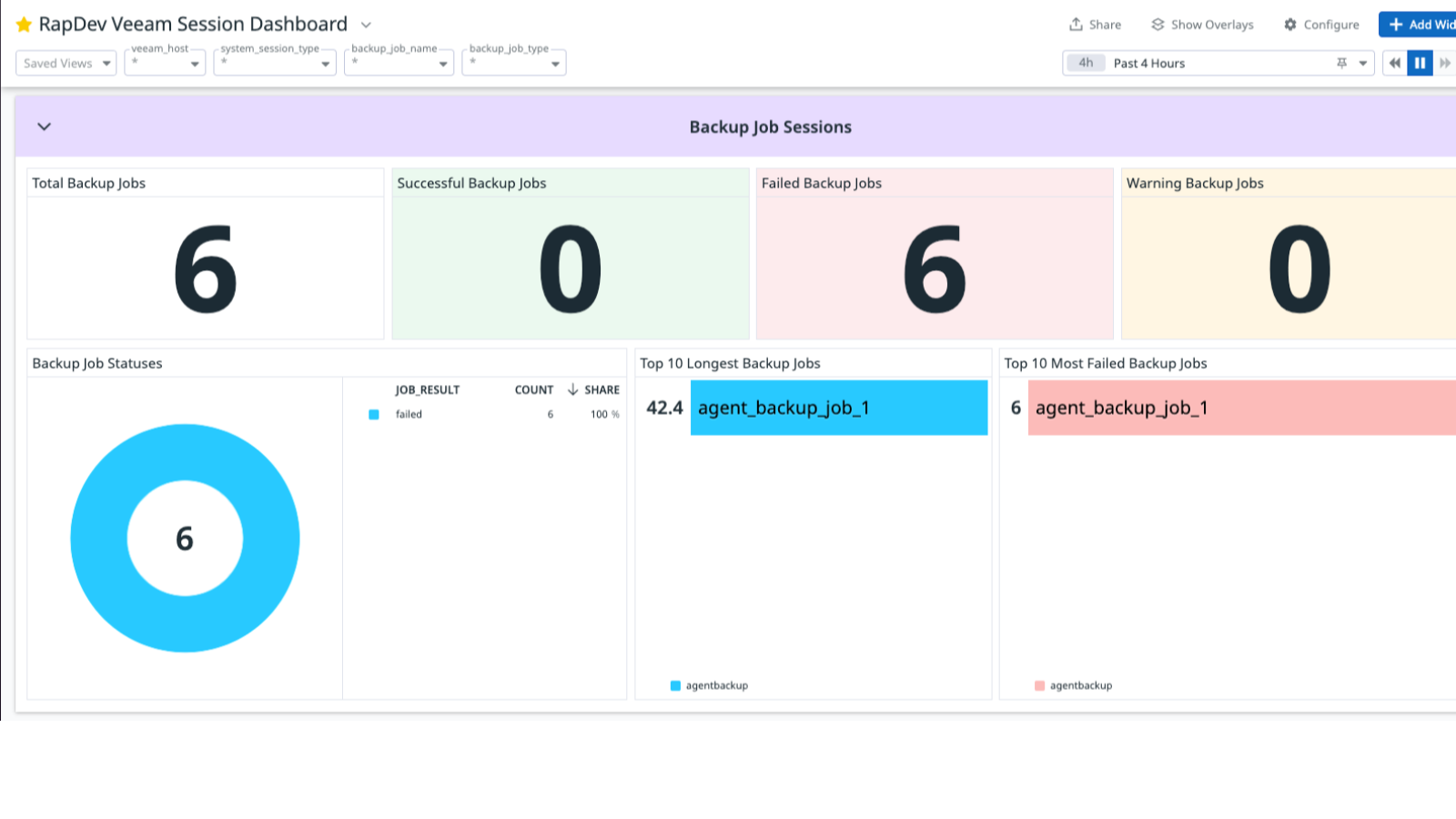 By combining these metrics with one of Datadog's many out-of-the-box notification integrations such as Teams or ServiceNow, missing an email due to a failed job should be a thing of the past. In addition to the data on the pre-configured Veeam Overview and Session Dashboards, the RapDev Veeam integration comes loaded with a default monitor for notifying when a backup job has failed. Just add your notification integration endpoint into the monitor body and save to immediately begin receiving alerts for failed backup jobs.
Bringing the health of your Veeam Enterprise Backup Manager into Datadog just adds yet another IT component to the observability arsenal provided by Datadog and RapDev. Take out a trial of the integration through Datadog's Marketplace to begin monitoring your Veeam infrastructure.
*This isn't the integration you're looking for? Missing a critical feature for your organization? Drop RapDev a note at support@rapdev.io and we'll build it!*